About Us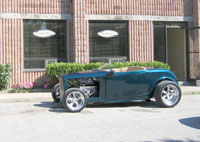 Dream Machines Ltd. provides the automobile enthusiast a professional, innovative and competent service outlet capable of understanding and delivering your expectations. Our business opened April 1, 2003, at 126 Select Ave -- a 2000 sq. ft. facility in the north east end of Toronto. We offer a wide range of services including fabrication, modification, maintenance and repair -- of a specific component, to a turn key vehicle whether it be show cars, race cars, street cars, personal or any unique use.
Strong communication between shop and client ensures that you are informed at all stages of the project. Drawing on our twenty-six years of professional automotive experience we will advise you of the best options available to achieve your desired result. Dream Machines Ltd. can manage all the details so you can take comfort in the knowledge that your project is being professionally handled.
We are committed to building a long-term relationship with you. Your needs are important to us. All the details of your project are considered, from initial consultation through completion, to functionality and maintenance. Our philosophy is that your finished product will look and function as good years from now as it does today.
Our customers are served with skill, pride, care and commitment. When you choose Dream Machines Ltd. you can rely on our experience, dedicated customer service and quality workmanship.
For more information about Dream Machines Ltd., please read our 'Mission Statement'.
Dream Machines Ltd. is a proud voting member of the Canadian Federation of Independent Business

, and a proud supporter of the SEMA Action Network

.