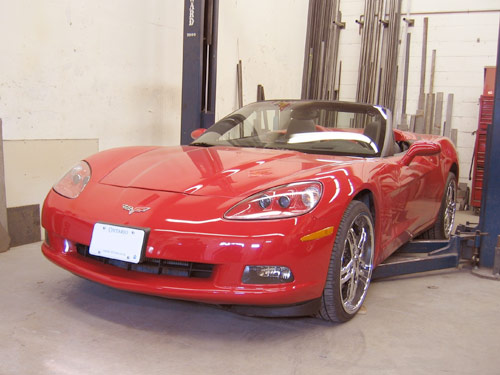 This is the vehicle as supplied by client.

The original request started off as outfitting a couple of roll bar hoops. Sounds straight forward enough, although if that were the case the job would have been completed already, as the owner had canvassed a number of other service outlets before learning of Dream Machines. They had not been able to fulfill the request. Several suppliers offer product that would be cosmetically suitable although nothing appeared to be available for a C6 to provide structural hoops that would serve the purpose should an operator become vertically challenged.

Upon evaluation it was quickly apparent why product availability was lacking -- this was due to space required for up/down operation of the convertible top. The design and incredibly elaborate engineering of the power top, while in operation, directly sweeps through the area required to locate functional hoops. As our potential customer adamantly felt need for this feature we proposed an option to produce a hinged hoop that would un-lock from a fixed position permitting the convertible top function.