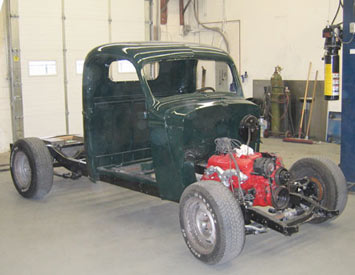 1939 Chevrolet Bell Telephone Service Truck

The infamous Bell Truck. This project has been underway for quite some time, dating back well before the inception of Dream Machines. This project has graced our shop on a number of occasions for various work specified by the owners, Scott & Judy Twiddy. In January 2008 the project returned for one last visit -- this time to be completed.

Congratulations to Scott & Judy Twiddy on their 'Bell Truck' being awarded the 'Trick Truck Corral Pick'
at the 2010 Goodguys Blue Suede Cruise!
---
| | | | |
| --- | --- | --- | --- |
| | | | |
| | | | |
| | | | |
| | | | |
| | | | |
| | | | |
| | | | |
| | | | |
| | | | |
| | | | |
| | | | |
| | | | |
| | | | |
| NEW ADDITIONS! | | | |
| | | | |
| | | | |
| | | | |
> Return to Portfolio <